It always feels good to give back
We'd be nothing without our community which is why Backtobasics Communication Services offers a complimentary marketing strategy review for every client. We've been known to take on clients pro bono – when the right, like-minded client strikes a chord. 
Interested in developing a marketing program that includes Corporate Social Responsibility? We'd love to help.
Over the years, Adriana Summers has helped not-for-profit organisations and private businesses with specific marketing projects. Here's a sample of just a few…
Mercy Community Services & Cookery Nook Catering & Conference Centre
Direct Mail campaign for gift baskets.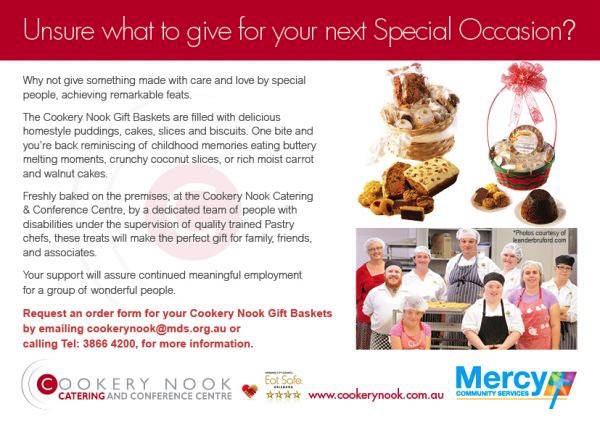 "The Cookery Nook Catering and Conference Centre is a Social Enterprise providing meaningful employment opportunities for people living with a disability in the commercial catering business. Identifying that we have a unique business that required greater marketing to get our name out there, we engaged Adriana to support our team to identify our value proposition and update our website and other marketing strategies to promote this. Adriana's professionalism, patience, creative ideas and networks within the marketing sector enabled the development of quality targeted marketing material. Our engagement with Adriana was always positive and found her to go above and beyond the scope of engagement, having also sent through relevant information on funding and support opportunities to continue to develop and grow our business."
Marketing and Media Campaign via the Project Management Institute Qld Day of Service for Coeliac Qld.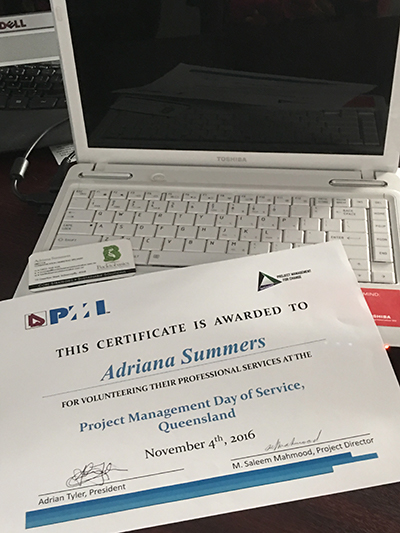 "Adriana provided Coeliac Queensland pro-bono advice as part of PMIQ's PMDoS. Adriana's passion and knowledge of project management was integral in the success we had with the event. Adriana was fantastic at probing us for information and making us question some of our thoughts/ideas."