PAST PROJECT CASE STUDIES
Design Build Renovate – Property Information Seminar 2017
Backtobasics Communication Services created a Property Information seminar aimed at helping owners build or renovate their homes.  We engaged speakers, and industry sponsors to create the event which attracted 150 registered guests. As part of the event,  we built a social media following, publicised presenters and wrote articles to educate and inform potential homeowners. The evening was a success with valuable information shared and quality leads generated for sponsors.  
Project Management Institute Australia Conferences 2015 -2017

Marketing Communication Program
"Adriana and Backtobasics were engaged by PMI QLD to support our hosting of PMI's 2015 National Conference, and we couldn't have been happier with the result. Adriana and her team were patient, creative, and positive every step of the way, working tirelessly with all our people. We achieved a better than hoped for result with TV, print and social media coverage because of their work."
"As a Director of PMI Queensland Chapter, host Chapter for the Australian Chapter PMI Conference 2015 (PMI AC 2015), it was my job to secure the services of an organisation to help us with the Marketing and Media Communication. I was extremely pleased when we engaged the services of Adriana Summers and Backtobasics Communication Services to help market and promote the Conference. Adriana Summers provided expert advice on media communication strategies and delivered quality content which helped to communicate core messages about PMI and the PMI AC 2015 conference. Though her media savvy and persistent efforts, PMI Qld was able to raise the profile and brand of PMI amongst industry leaders, government and project managers. Backtobasics Communication Services achieved radio coverage, print media article for the PMI and the PMI Australia Conference 2015 and even a segment on TV. I was impressed with her professionalism and her ability to continually provided value-added services beyond the brief. I would confidently recommend Adriana and Backtobasics Communication Services to assist any organisation with their marketing and communication strategies."
"We are very grateful to Adriana and Backtobasics Communication for their services and the work they have done with us for our two national conferences. She has met our requirements and delivered beyond expectations to our stakeholders. Without Backtobasics we wouldn't have been able to uniquely market our image and develop an effective marketing strategy with tools that communicate to our sponsors and members and opened up our networks. I would highly recommend their services and look forward to using them again in the future."
Toowoomba Gardenfest 2014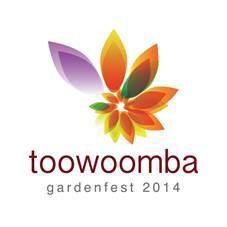 Community Engagement & Media Program
Our Challenge: To inject new life and increase attendance at the Toowoomba Gardenfest 2014 event. The festival was self-funded by Plan Ahead Events with in kind sponsorship from Toowoomba Council and Southern Queensland Institute of TAFE (SQIT). Consequently, we needed to attract new sponsors  and a higher number of both exhibitors and attendees.
Strategy: Backtobasics developed a comprehensive community engagement and media program to reinvigorate a 30 year old gardening community event. Our strategy was to attract a wider audience by focusing the community's attention on eating fresh and buying or growing locally produced food. We worked with Plan Ahead Events to develop sponsorship packages and engage new exhibitors, presenters and sponsors. Backtobasics facilitated additional food segments using local chefs, producers and talent. One month prior, we hosted a launch at 
SQIT to thank our sponsors and attract media attention with a special guest, the Lord Mayor of Toowoomba. This event was followed by an official opening on the first day of the festival, acknowledging the wider community of supporters and sponsors. This showcased and confirmed Gardenfest's high level of support and endorsement from the government and community.
Achievements: Backtobasics assisted Plan Ahead Events to attain media sponsorship from Southern Cross Ten, Radio 4GR and The Chronicle, plus in kind donations from Harvey Norman and local companies. Backtobasics produced quality marketing materials and provided copywriting support to build a regional media campaign. This resulted in coverage on TV, newspapers and radio, delivering over $25,000 of value in publicity and sponsorship. 
Gardenfest was held outdoors on the SQIT oval, the location being part of an non negotiable sponsorship arrangement. Unfortunately, attendance was impacted as the event lacked adequate weather-proofing, however a new location for the 2015 Gardenfest was quickly found.
"Adriana Summers and Backtobasics Communication Services provided valuable assistance to Plan Ahead Events to secure sponsorship and publicity for Toowoomba Gardenfest 2014. Adriana actively sought opportunities to value-add to the festival and tirelessly worked to help attract sponsors, presenters, exhibitors and attendees. She is media savvy and developed a strategic media program to gain publicity through electronic and print media in South East Queensland. Plan Ahead Events gained media sponsorship and publicity for the festival delivering more than $25,000 in in kind funds and value. The media program helped to raise the profile of the festival and reach thousands of people. Adriana is a skilled communicator and wrote articles for distribution to the media, newspaper spreads, adverts, posters and flyers. I greatly appreciated her passion, dedication and most of all her counsel in tackling difficult issues. I highly recommend Backtobasics Communication Services to any organisation seeking to build their brand, attract delegates and achieve a successful event."
OUR WATER OUR BACKYARD CAMPAIGN
This $300K project involved developing and implementing an education and community awareness campaign for residents of the Port Douglas and Mossman area. It aimed to inform the community of the water conservation measures being implemented by the Cairns Regional Council. Working in a team of consultants at Marketplace Communications in New Farm, we developed a three-phase communication strategy; the importance and practice of saving water, encouraging attitude and behaviour changes, and reinforcing water conservation practises. 
With the leadership of a managing director and assistance from a marketing assistant, Adriana's role of Account Manager saw her primarily responsible for the client relationship and outcome of the campaign.
The campaign involved:
Developing a campaign logo, theme and core messaging 

Launching the official campaign website

www.oursustainablewater.com.au

 

Maintaining and monitoring media and public response to the campaign

Producing a series of adverts for the various stages of the advertising campaign

Developing a direct mail campaign involving the production of a series of education brochures targeting businesses, tourists, and residents 

Creating a media campaign involving an official launch, media releases, and fact sheets

Production of promotional educational materials including an educational DVD, banners, badges, postcards, checklists etc.

Conducting regular client meetings and providing analytical reports
AGL gas pipeline division, C-Bridge Internet Services, and Morgan Stanley financial services, 2000
As Account Executive at Blackie McDonald Consultancy in Sydney, Adriana managed media programs for a variety of clients in the financial and technology sectors. Tasks included  writing and distributing media releases, organising media conferences/interviews, monitoring and maintaining coverage, and reporting to clients.
The launch of the AGL pipeline was a specific project that required a sensitive media campaign, one that saw great results for the company. The campaign achieved increased awareness of the company's profile and successfully delivered the intended messages to their target markets.
external and internal communications program FOR
ROYAL & SUN ALLIANCE,

1999
As Account Director at Whyment Consulting Group (WCG) in Sydney, Adriana developed and implemented communication strategies for both the customers and employees of Royal & Sun Alliance. Primarily responsibilities included: 
Writing, editing, and managing editorial content for the Royal Sun magazine and managing overall production

Development and execution of media campaigns promoting various financial products and producing marketing materials for various sectors including workers compensation, home insurance, and financial products. Notably, the media strategist for the Tyndall group and Royal & Sun Alliance merger. 

Monitoring media coverage and delivering reports to clients.
Launch of Centrelink FOR
AUSTRALIAN FEDERAL GOVERNMENT 1997
As Account Manager (Public Affairs Division) at Edelman International in Sydney, Adriana worked as part of the communication team to launch the Australian Federal Government's national roll out of Centrelink offices.


Developed media angles and co-ordinated distribution of media releases to organisations Australia-wide.

Liaised with media regarding localised stories for each region, monitored and reported on media coverage and issues.

Extensive media coverage was achieved in national and regional newspapers and news outlets.
Liaised with Royal Children's Hospital and Amway to develop a media strategy promoting sponsorship initiatives. Strategy included media events such as the launch of Amway's online trading website, coordinating interviews, reporting on results, and ongoing liaising with media, which resulted in successful media coverage of the sponsor partnership.
Tangalooma Moreton Island Resort, Austcorp Australia, Zupps Group of Companies, Brisbane City Council Superannuation Office, Queensland Department of Lands, Australian Nature Conservation Agency, Comalco Smelter Development and CSR Softwoods.
Between 1994 – 1995, Adriana worked as Senior Consultant at the Brisbane arm of McCall's Public Relations & Public Affairs Consultancy Pty Ltd. Responsible for managing the above accounts, her role was to assess the communication needs for each client and develop a strategy to suit. Components of the strategies included:
Liaising with government agencies and community groups on behalf of clients to manage sensitive issues, particularly Comalco Smelter Development project in Gladstone and the CSR Softwood program for the Bribie Island community

Developing and implementing media campaigns to promote products and services for Zupps Group of Companies both internally and externally

Creation and production of communication materials

Reporting on progress and achievements for clients

 

The campaigns for the above clients achieved great results including feature stories in local, metropolitan and national newspapers. In the case of Tangalooma Moreton Island Resort, extensive television coverage was also achieved to promote its Wild Dolphin Feeding program.
Miessence and One Group Pty Ltd, Hong Kong, 2005-2009
While living in Hong Kong, Adriana owned operations and marketing responsibilities on top of her role as Franchise Manager for Miessence, an organic healthcare franchise owned by One Group Pty Ltd Australia. The marketing strategy for the business involved targeting direct consumers as well as businesses through: 
Developing strategic alliances with health and wellbeing organisations, educational groups, and community 

Implementing strategic media and marketing campaigns, notably in preparation for the visit of One Group Hong Kong's Founding Director

Developing and conducting healthcare awareness programs for schools and community groups including YWCA, HK Cancer Council, HK University, and Australian International School

Managing retail booths and product displays at gift fairs

Providing communication support for customers and business associates
By using a plethora of versatile communication tools Adriana established a successful niche market in Hong Kong which expanded the awareness and benefits of organic products.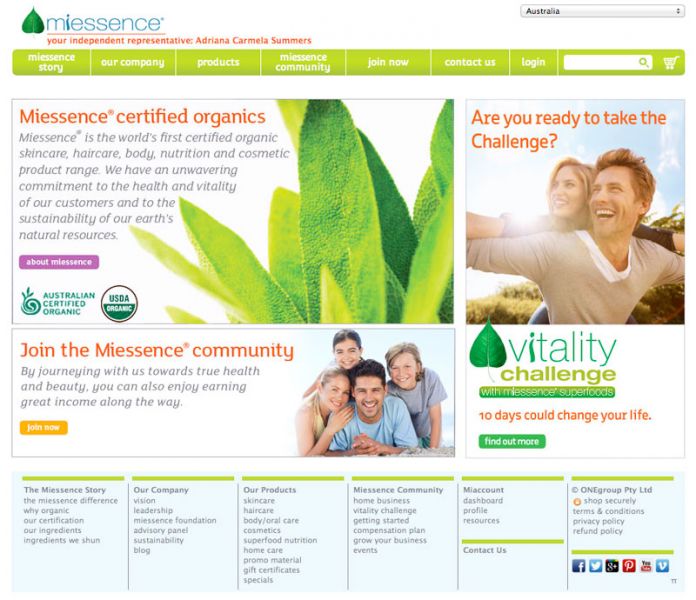 Adriana was primarily responsible for the production of the Dementia Services Development Centre's publication "Australian Dementia Care" – a magazine which promoted the work that Age Care Professionals conducted in the community.
Adriana wrote and edited articles, managed the production of the magazine, as well as developed and implemented a media program promoting the visit of Reminiscing Practitioner Faith Gibson, Emeritus Professor of Social Work from the University of Ulster, Northern Ireland. The program resulted in greater awareness for the needs of people living with dementia and ways in which to better treat their condition.
Murrumbidgee Dairy Products, subsidiary of Bonlac 1996
Initially recruited for an entry level marketing role with Murrumbidgee Dairy Products based in Wagga Wagga NSW, Adriana expanded the role by utilising communication elements to enhance the company's position in their customer markets, improve internal communications, and create wider exposure to the community.
Projects included;
Revamping the corporate brochure, product profiles, and the staff magazine 

Marketing various milk-based products to the retail and wholesale trade sector

Promoting the Healthy Eating program for schools

Implementing a media program to celebrate the company's success at trade conventions and raise their corporate profile

Executing media and celebrations for the 80th anniversary milestone achievement 
During this period, the communication and marketing program greatly enhanced the company's position and successfully contributed to their financial achievements.
Qld Department of Environment & Heritage, Brisbane 1987-1993
As part of the Education & Information Unit team, Adriana coordinated and assisted with the implementation of successful communication programs that aimed to achieve the cooperation of many government, business and community groups. 
To help fulfil the department's communication objectives, Adriana carried out the event management of many public communication and education programs including: 
World Environment Day – a public open day

Northern Hairy-Nosed Wombat Appeal – fundraising media event

Opening of Fort Lytton National Park – a public open day to commemorate the significance of Fort Lytton in Australia's defence history